Belgian water-colour artist, born in Balen (B) in 1935. Graduate of the Academy for Visual Arts in Mol (B) under the guidance of Leo Lewi and Fred Jocqué. Water-colour autodidact. Exhibitions in Belgium and abroad. Founding member of and, from 1988 to 2008, President of the "Kempische Water-colour Association" (KAV) and later of the "Water-colour Institute of Belgium" (AIB). At present honoury President and member of the Board of Directors of the AIB. Long-term member of the Board of Directors of the society "Vrienden van het Jakob Smitsmuseum vzw". Cofounder of the "European Confederation of Watercolour Societies" (ECWS). Organiser and instructor at many water-colour workshops in Belgium and abroad.
---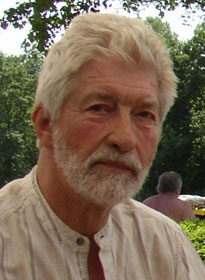 "As a keen nature-lover I discovered the picturesque corners of the wide world.
When in the countryside I can admire and wonder, I can enjoy the space, the light and the colour palette of the changing seasons and, as a poetic painter, let my emotions flow freely. The art of water-colour is my passion, the unspoiled countryside my open-air workshop. Painting in water-colours gives me the unique possibility to capture brief impressions of colour and light. I paint the essence of the landscape.
In my language in colours and form I strive for simplification and refinement of the landscape with due respect for permanent aesthetic values.
Water-colour painting is a real art, where each mistake is clearly visible and is generally irrepairable… a playful challenge every time."